WASSSSSSUUUUUPPPP!!!!

Take just 10 minutes at our site and you'll be convinced there's no better way to market your team sports!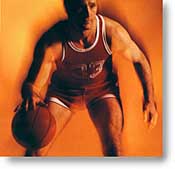 While it's clear most every college or professional sports marketer could use top-notch marketing and advertising services to help support their team sports, few teams have budgets that can afford the high fees demanded by traditional marketing agencies.
Agency costs for producing advertisements, brochures, direct mail programs, radio, transit boards and other collateral materials are often prohibitive. And when you add in key services like marketing consultation and media planning, many budgets simply get left out of the game.
Sixth Man Sports is the first marketing service of its kind that serves these key promotional communications needs of collegiate or professional sports marketers, regardless of the size of the team or the size of the marketing budget.
By utilizing the powerful capabilities of the Internet as a key means of communication - and as a way to keeps costs down - Sixth Man represents a unique resource for sports marketers by offering "big" advertising agency services and creative products at prices you never thought possible.
With Sixth Man's creative and marketing expertise, you'll be able to compete more effectively with other entertainment outlets in your market (sports or otherwise), even when you don't have the time, money, or people resources it would normally require.